Translate this page into:

doi:
10.1055/s-0040-1713688
Cardiac PET-CT: A Brief Review of Indications and Feasibility in the Indian Scenario
1
Department of Nuclear Medicine, Nizam Institute of Medical Sciences (NIMS), Hyderabad, Telangana, India
2
Department of Cardiology, Nizam Institute of Medical Sciences (NIMS), Hyderabad, Telangana, India
Address for correspondence V. L. Gowthami Rayaprolu Department of Cardiology, Nizam Institute of Medical Sciences (NIMS) Hyderabad, Telangana 500082 India gowthamirao@gmail.com
Indian Journal of Cardiovascular Disease in Women
Licence
This is an open access article published by Thieme under the terms of the Creative Commons Attribution-NonDerivative-NonCommercial License, permitting copying and reproduction so long as the original work is given appropriate credit. Contents may not be used for commercial purposes, or adapted, remixed, transformed or built upon. (https://creativecommons.org/licenses/by-nc-nd/4.0/)
Disclaimer:
This article was originally published by Thieme Medical and Scientific Publishers Private Ltd. and was migrated to Scientific Scholar after the change of Publisher; therefore Scientific Scholar has no control over the quality or content of this article.
Abstract
Abstract
Cardiac positron emission tomography (PET) is a functional imaging modality with the predominant indications being an assessment of myocardial perfusion and viability using short-lived positron emitters. PET procedures are used for perfusion assessment only when single-photon emission computed tomography is equivocal. Perfusion agents are ultra short-lived and have limited availability in our country, that is, only at centers with onsite cyclotron. Viability assessment with fluorodeoxyglucose (FDG) is widely performed in many centers across the country due to the availability of FDG. The other important indication is in the detection of inflammatory myocarditis, the most common being cardiac sarcoidosis done with special dietary instructions and FDG as a tracer. This indication is widely used for early detection of myocardial inflammation which would be reversible if treated early. It is also used in the assessment of treatment response. Newer tracer 68 Ga Dotapeptide is also used in this application.
Keywords
cardiac PET-CT
Indian scenario
Introduction
Positron emission tomography (PET) is a functional tomographic imaging modalities in nuclear medicine. It is defined as molecular imaging using short-lived positron emitting radionuclides tagged to organic molecules in order to detect the pathophysiological abnormalities at the cellular level in vivo.
PET has been used for decades as an essential tool to noninvasively image myocardial blood flow and metabolism with higher sensitivity, higher resolution, and quantitative ability. Due to the very short half-life of each of the PET-magnetic particle imaging (MPI) tracers, rest/stress PET-MPI is associated with a very low radiation dose of approximately 2 to 3 mSv (Table 1).
Isotope

Half-life

Indication

Abbreviation: PET, positron emission tomography.

15 O-Oxygen

2 minutes

Perfusion

13 N-Ammonia

10 minutes

Perfusion

82 Rubidium

76 seconds

Perfusion

18 F Flurpiridaz

110 minutes

Perfusion

18 F-FDG

109 minutes

Metabolism and inflammation

68 Ga DOTATATE

68 minutes

Inflammation
However, single photon emission computed tomography (SPECT) is the most commonly used imaging technique due to its availability and low cost.
The use of cyclotron-produced short-lived PET perfusion agents like 13 N-Ammonia and 150 water is restricted only to the sites possessing onsite cyclotron.
This is the major drawback as there are not many cyclotrons in India to support the use of perfusion tracers, and, to date, prohibitively expensive rubidium generator cost makes it a nonviable option in our country, although many universities across the globe with dedicated cardiac units and no cyclotron facility have been using it for the past decade. With all these logistics and economic constraints, SPECT MPI is still the preferred imaging for myocardial perfusion assessment.
Advances in medical imaging technology led to the invention of PET-CT, a hybrid system that combines PET with CT, which is now routinely found in all nuclear medicine departments. As noted above, with such systems, nuclear MPI is routinely coupled with coronary artery calcium (CAC) scanning, allowing assessment and management of coronary atherosclerosis that might not be detected by ischemia testing alone. Coupling of MPI and cardiac computed tomography angiography (CCTA) in the same setting with these systems has also been described.1 Several studies have evaluated hybrid PET-MPI/CCTA with respect to prediction of hemodynamically significant stenosis, as defined by invasive angiography in combination with fraction flow reserve (FFR),2 3 and have demonstrated higher accuracy of the combination than with either modality alone.
PET-CT is widely used in oncology as it has become a mandate in the majority of solid organ cancers for staging, restaging and treatment monitoring. Hence, many hospitals are equipped with PET-CT scanners, which are also available for cardiac applications. The systems with 64 or 128 slice CT would be able to perform calcium scoring, CT coronary angiogram (CAG), and, if necessary, functional information at one go (Fig. 1).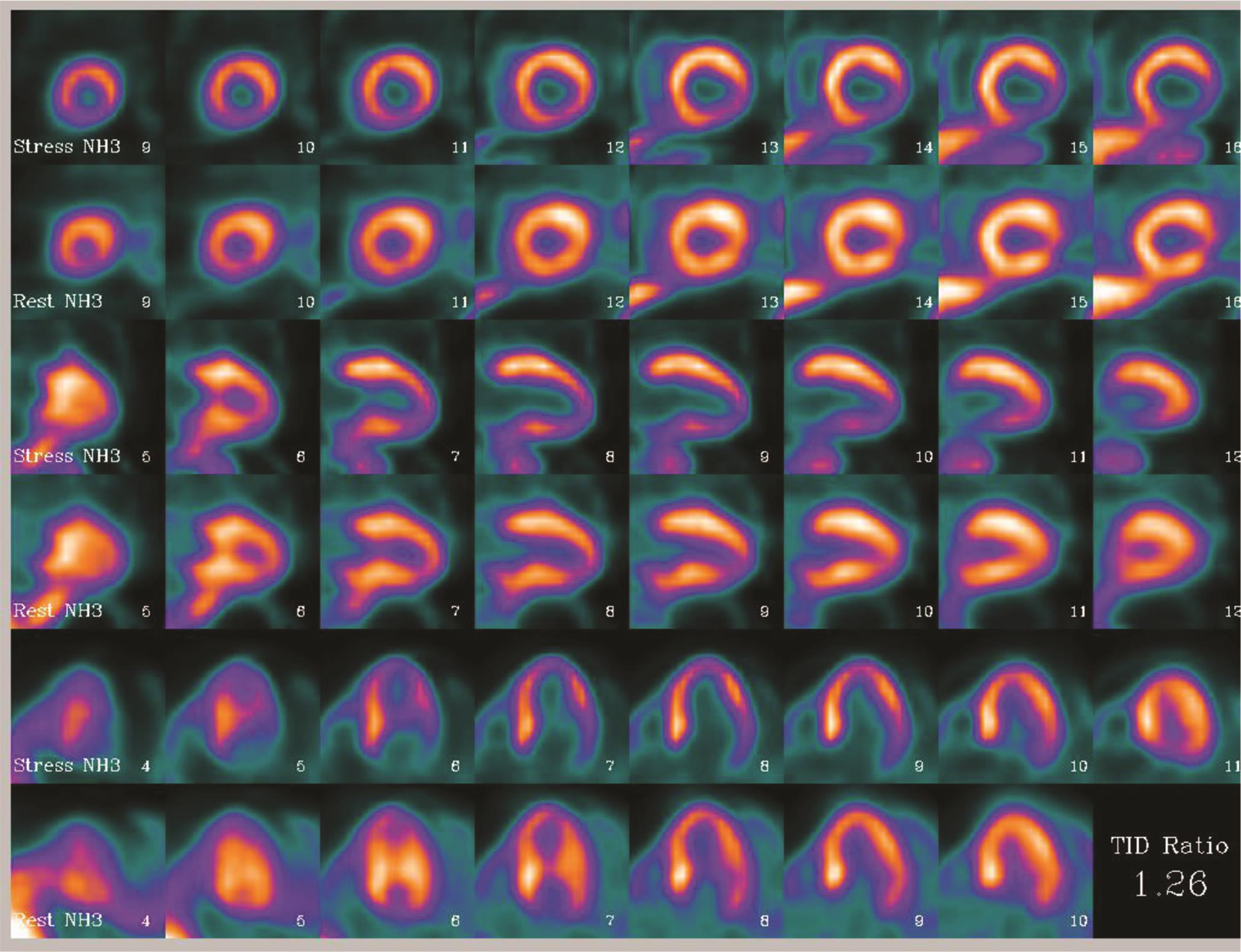 Hybrid PET-MRI systems are appearing in a few research and institutional sites globally and also in India. These systems provide both functional and anatomical information simultaneously. One synergistic effect is the ability of the MRI to distinguish the subepicardial from the subendocardial flow.
18F is a preferred positron emitter in PET imaging with its relatively long half-life and flexible chemistry to get labeled with various ligands. 18F-Flurodeoxyglucose (FDG) is the workhorse in all PET-CT scanner facilities across the globe not only for oncological and neurological applications but also for cardiac pathologies. It is used for myocardial viability and myocardial inflammation assessment.
While novel 18F-labeled perfusion radiotracers are being developed, F-18 flurpiridaz is the most prominent one, as these radiotracers are still evaluated in clinical phase 3 trials which may make PET MPI with absolute flow quantification a more widely available method. 18F-fluoromisonidazole (FMISO) is another most commonly used PET tracer for measuring hypoxia. Retention of 18F-FMISO correlates with the severity of hypoxia.4
Applications of Cardiac PET-CT
Emerging Trends in PET
Active Mineral Deposition and Calcification of Atherosclerotic Plaques
18F sodium fluoride (18F-NaF) has recently emerged as another tool for probing the pathophysiology of atherosclerosis. The findings reported in both large arterial vessels and coronary vessels studies imply that 18F-FDG and 18F-NaF target atherosclerotic plaques but different aspects and, probably, different phases of dynamic plaque biology. Lesional 18F-FDG uptake likely precedes uptake of 18F-NaF as an indicator of active calcification. Vascular uptake of either radiotracer may reflect potential plaque instability—one as a consequence of high-inflammation and the other as a consequence of plaque rupture and active mineral deposition.19
68 Ga DOTATATE is a somatostatin receptor imaging agent which would be an alternative to FDG in the detection of myocardial inflammation. They also concentrate on the activated macrophages, which overexpress SSTR type 2 receptors, thus showing uptake in inflammatory sites. 68Ga-DOTANOC PET/CT can be used as an adjunct imaging modality in patients with suspected cardiac sarcoidosis (CS), preferably as an imaging substitute for the obsolete 67Ga citrate scintigraphy. In a small cohort of patients with suspected CS, cardiac Ga-DOTANOC PET/CT had excellent diagnostic accuracy and had the advantage over 18F-FDG PET/CT in that no prescan fasts, diets, or infusions were required.20 This tracer has fast blood clearance and is not only superior to FDG in identifying vulnerable plaque21 but also shows greater specificity as an inflammation imaging target.22
Conclusion
Cardiac imaging with PET-CT offers highly sensitive myocardial perfusion imaging; however, with limited availability of tracers, it restricts the use to only the centers with onsite cyclotron. On the other hand, myocardial viability evaluation with FDG is the preferred cardiology indication in almost all PET centers across the country as well as globally. PET-CT in inflammatory cardiomyopathies with FDA also took off in recent years, providing very useful information regarding the myocardial involvement, especially in cardiac sarcoidosis, avoiding the invasive endomyocardial biopsies. 68Ga DOTATATE is making its presence in cardiac inflammation imaging with encouraging results. However, further studies are required for it to replace FDG; also, its availability only in centers with Germanium-Ga generator is a limitation. Although many other new PET tracers are coming to light off late, here we intend to highlight those which are used in the Indian context.
Conflict of Interest
None declared.
References
Diagnosing coronary artery disease with hybrid PET/CT: it takes two to tango.

J Nucl Cardiol. 2013;

20

(

05

):

874

-

890

.

Cardiac positron emission tomography/computed tomography imaging accurately detects anatomically and functionally significant coronary artery disease.

Circulation. 2010;

122

(

06

):

603

-

613

.

Hybrid imaging using quantitative H215O PET and CT-based coronary angiography for the detection of coronary artery disease.

J Nucl Med. 2013;

54

(

01

):

55

-

63

.

Development of F-18-labeled fluoroerythronitroimidazole as a PET agent for imaging tumor hypoxia.

Radiology. 1995;

194

(

03

):

795

-

800

.

Searching for novel PET radiotracers: imaging cardiac perfusion, metabolism and inflammation.

Am J Nucl Med Mol Imaging. 2018;

8

(

03

):

200

-

227

.

Burger C, von Schulthess GK, Kaufmann PA. Bicycle exercise stress in PET for assessment of coronary flow reserve: repeatability and comparison with adenosine stress.

J Nucl Med. 2003;

44

(

02

):

146

-

154

.

Current methods of pharmacologic stress testing and the potential advantages of new agents.

J Nucl Med Technol. 2009;

37

(

01

):

14

-

25

.

SNMMI/ASNC/SCCT guideline for cardiac SPECT/CT and PET/CT 1.0. J Nucl Med. 2013;54(08):1485-1507.

Cardiac PET imaging for the detection and monitoring of coronary artery disease and microvascular health. JACC Cardiovasc Imaging. 2010;3(06):623-640.

Serial assessment of coronary flow reserve by Rb-82 PET predicts mortality in heart transplant recipients. JACC Cardiovasc Imaging. 2020;13:109-120. (1 Pt 1)

Multimodality imaging in the assessment of myocardial viability. Heart Fail Rev. 2011;16(04):381-395.

Improvement of left ventricular ejection fraction, heart failure symptoms and prognosis after revascularization in patients with chronic coronary artery disease and viable myocardium detected by dobutamine stress echocardiography. J Am Coll Cardiol. 1999;34(01):163-169.

Advanced imaging of cardiac sarcoidosis. J Nucl Med. 2014;55(01):99-106.

Incidence of abnormal positron emission tomography in patients with unexplained cardiomyopathy and ventricular arrhythmias: The potential role of occult inflammation in arrhythmogenesis. Heart Rhythm. 2015;12(12):2488-2498.

Positron emission tomography/computed tomography for diagnosis of prosthetic valve endocarditis: increased valvular 18F-fluorodeoxyglucose uptake as a novel major criterion. J Am Coll Cardiol. 2013;61(23):2374-2382.

(18)F-FDG PET/CT for early detection of embolism and metastatic infection in patients with infective endocarditis. Eur J Nucl Med Mol Imaging. 2010;37(06):1189-1197.

Value of F-18 FDG hybrid camera PET and MRI in early Takayasu aortitis. Eur Radiol. 2003;13(02):400-405.

Early aortic valve inflammation precedes calcification: a longitudinal FDG-PET/CT study. Atherosclerosis. 2015;238(02):165-172.

A dual tracer (68)Ga-DOTANOC PET/CT and (18)F-FDG PET/CT pilot study for detection of cardiac sarcoidosis. EJNMMI Res. 2016;6(01):52.

Clinical applications of Gallium-68. Appl Radiat Isot. 2013;76:2-13.

68Ga-DOTATATE PET/CT for the detection of inflammation of large arteries: correlation with18F-FDG, calcium burden and risk factors. EJNMMI Res. 2012;2(01):52.
Show Sections