Translate this page into:

doi:
10.1055/s-0040-1722383
1
Department of Imaging, Fortis Escort Heart Institute, New Delhi, India
Address for correspondence Mona Bhatia, MD, FRCR(UK), FSCCT(USA), FSCMR (USA) Department of Imaging, Fortis Escort Heart Institute Okhla Road, New Delhi 110025 India monabhatia1@gmail.com
Indian Journal of Cardiovascular Disease in Women
Licence
This is an open access article published by Thieme under the terms of the Creative Commons Attribution-NonDerivative-NonCommercial License, permitting copying and reproduction so long as the original work is given appropriate credit. Contents may not be used for commercial purposes, or adapted, remixed, transformed or built upon. (https://creativecommons.org/licenses/by-nc-nd/4.0/)
Disclaimer:
This article was originally published by Thieme Medical and Scientific Publishers Pvt. Ltd. and was migrated to Scientific Scholar after the change of Publisher.
Abstract
Abstract
Cardiac MRI (CMR) in this era is fast emerging as an invaluable tool in assessment of a large gamut of cardiac pathologies to not only ascertain the diagnosis but also assess severity, enable prognostication of disease process, guide management, and follow-up patients. CMR is today the gold standard for accurate and reproducible cardiac functional assessment, with excellent soft-tissue contrast, and ability to evaluate myocardial involvement even without contrast objectively via mapping techniques. CMR is thus fast emerging as the modality of choice and exponentially growing for cardiac assessment.
Keywords
cardiac mass
cardiac MRI
cardiomyopathy
CMR
ischemic cardiomyopathy
Introduction
Globally, cardiovascular morbidities and mortalities account for a large percentage of patients. Similar statistics are present in India. Early diagnosis with accurate evaluation is critical; hence, imaging plays a lead role. Various modalities exist with a gamut of radiography, echocardiography, CT, MRI, nuclear scintigraphy, and invasive angiography. MRI has emerged as a winner and leads the array of diagnostic modalities in this era. The chief advantages of MRI include noninvasiveness, lack of ionizing radiations, and excellent temporal and spatial resolution.1 2 Recent advances in technology allow wide range of applications in myocardial viability, cardiomyopathies, congenital and valvular heart diseases, pericardial pathologies, cardiac masses, and aortic and pulmonary vessels evaluation. Emerging applications of MRI include assessment of myocardial perfusion, ischemia, coronary artery and vessel wall analysis, atherosclerotic plaque imaging, myocardial tissue characterization (T1, T2 mapping), and even therapeutic MRI prior to electrophysiology studies and interventions. Therefore, CMR shows great promise in cardiac and vascular evaluation in current times.
Technical Aspects of Cardiac MRI
Different sequences have been designed, aiming at different imaging requirements. These include black blood and white blood images. ECG gating is prerequisite for optimum image quality. The black blood images are particularly useful to evaluate the cardiac anatomy using time of flight and echo time variations to generate spin echo (SE), fast spin echo (FSE), and single shot turbo fast spin echo sequences. The white blood images are useful to demonstrate cardiac motion and valvular diseases. Bright blood sequences include gradient-echo (GRE) and refocused steady-state free precession (SSFP) sequences.
Other bright blood imaging techniques include flow-dependent time-of-flight and MR angiography, which may be three-dimensional (3D) in nature postgadolinium injection. Time of flight imaging is based on phenomena of flow-related enhancement, which is used to visualize flow within the vessels without giving contrast. 3D MR angiography postgadolinium injection is useful for vascular evaluation of pulmonary vessels, aortography, and coronary bypass grafts.
First-pass postcontrast MRI is used to assess the microcirculation of the myocardium. Late gadolinium enhancement MRI (LGE-MRI) is used for myocardial tissue characterization, scar/fibrosis detection and quantification, and distinguishing ischemic cardiomyopathy from nonischemic cardiomyopathy. The commonly used contrast agent is water-soluble gadolinium. Myocardial tagging is used to evaluate myocardial function. The dark grid aids evaluation of the myocardial motion through the entire cardiac cycle with accurate evaluation of displacement, deformation and myocardial strain, thus enabling evaluation of regional myocardial function. Myocardial T1 mapping is used to assess the degree of myocardial fibrosis invisible to LGE-MRI. T2 mapping is used to quantify myocardial edema. T2* mapping is used to quantify the degree of iron deposition in the myocardium, especially in patients with hemosiderosis, thalassemia major and repeated blood transfusion.3
The reasons for the emergence and dependence on CMR is the high soft-tissue contrast, lack of ionizing radiations, large field of view, accuracy, versatility, functional assessment, reproducibility ability of myocardial tissue characterization, and suitability for treatment monitoring and follow-up of disease progression . The limitations include high cost, availability, dyspneic and claustrophobic patients, patients with MR conditional and unsafe devices, and need for cardiac and respiratory gating. Contrast reactions like nephrogenic systemic fibrosis pose furthermore restrictions. The important challenges in cardiac imaging include respiratory and cardiac motion. While breath holding may eliminate the former, the latter requires electrocardiography (ECG) gating to ensure imaging in the desired phase as systolic, diastolic or through the entire cardiac cycle. Cine imaging with ECG triggered segmentation permits evaluation of the cardiac and valvular function besides blood flow, myocardial contractility and wall motion.
Imaging Planes
There are three standard cardiac planes including short axis (SA) (Fig. 1), horizontal long axis (four-chamber view) (Fig. 2), and vertical long axis (two-chamber view) (Fig. 3). These planes are defined on axial body plane images along a straight line, extending from center of mitral valve to cardiac apex (long axis of heart). While the SA plane is at right angle to the long axis, the vertical long axis plane is orthogonal to the SA plane. The horizontal long axis is prescribed along a horizontal plane at right angle to the SA plane. Other commonly used planes include the three-chamber view, in the form of the left ventricular outflow tract (LVOT) view and right ventricular outflow tract (RVOT) view, and the oblique sagittal view and "three points" plane view by connecting three points along a selected coronary artery.4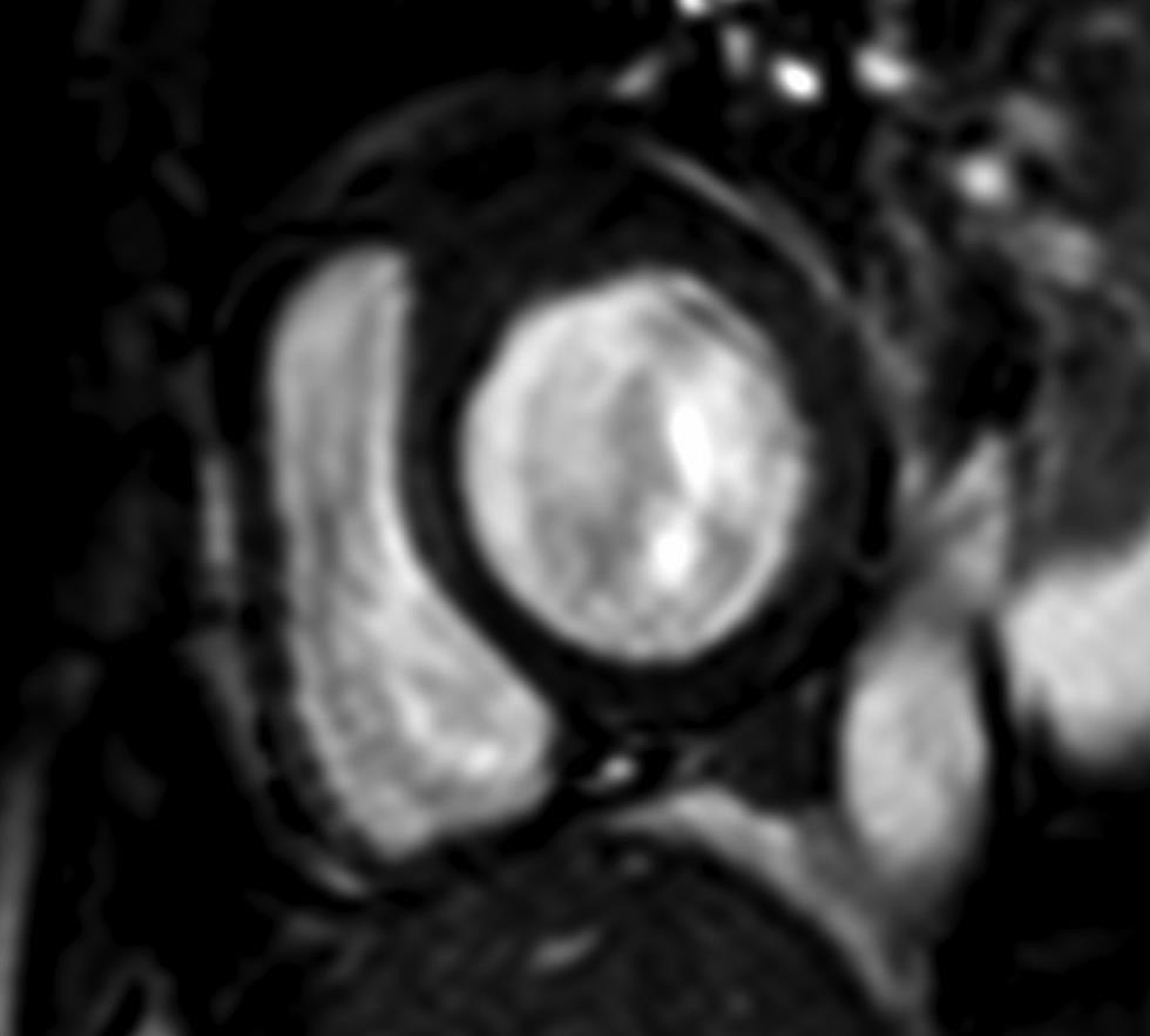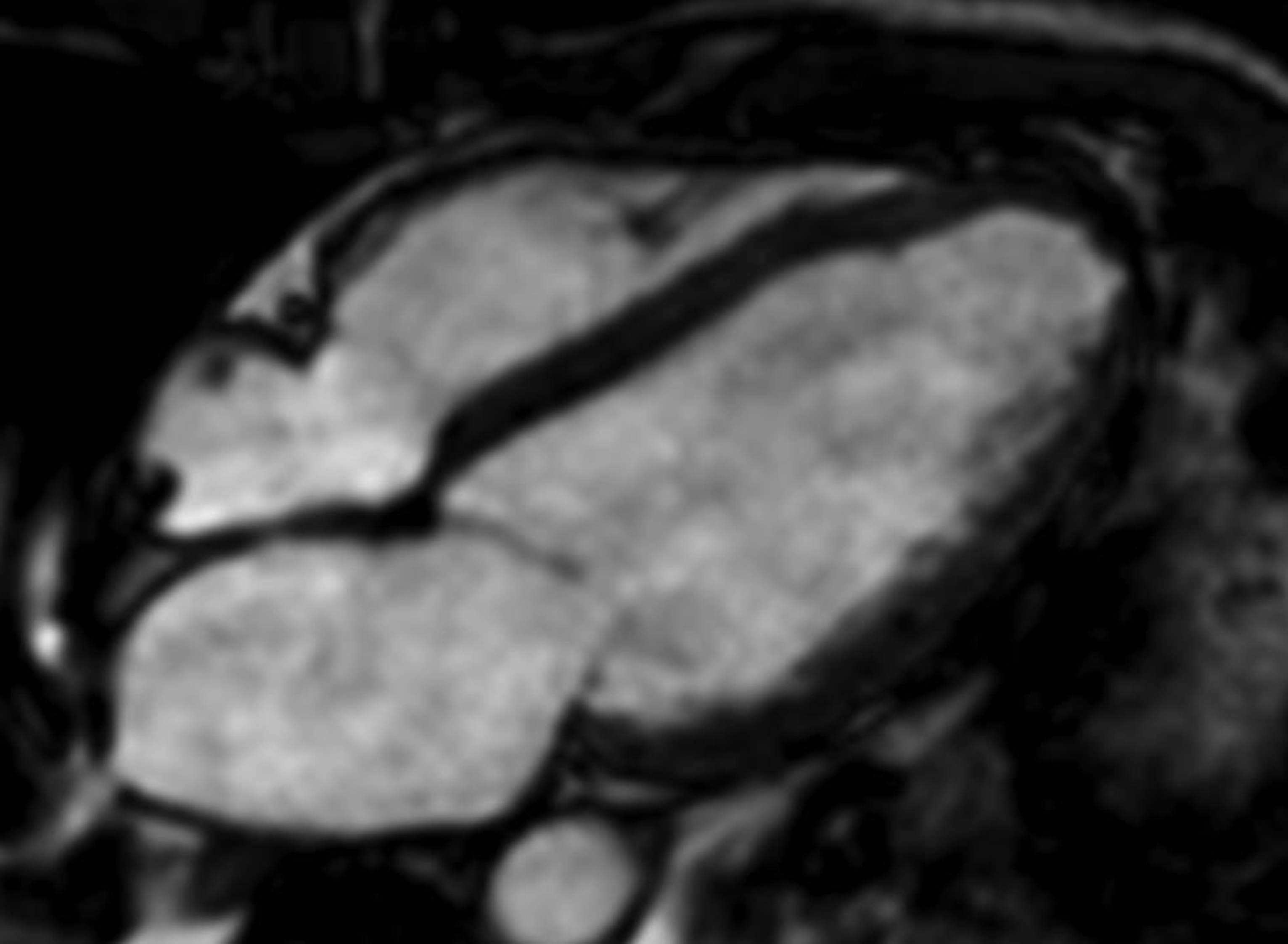 Indications and Applications
Future Perspectives
CMR methodology is evolving at a rapid pace. The latest mapping techniques of T1 and T2 sequences ensures objective evaluation of T1, T2, and ECV of the myocardium (Fig. 13). Molecular imaging and interventional MRI techniques are now evolving to create stem cell therapies. Iron-based, contrast-labeled stem cells enable localization postimplantation for follow-up of stem cell therapy in the heart.34 35 36 Iron-loaded precursor cells in scarred myocardium can also be evaluated by MRI.37 Furthermore, there is ongoing research for the use of machine learning relevant to CMR in the areas of image analysis, acquisition and reconstruction, diagnostic evaluation, and prognostication. Machine learning has reduced the time required for segmentation and analysis significantly.
Conclusion
CMR has fast evolved into an exceptional modality for cardiovascular disease assessment. Its major advantages are superior soft-tissue contrast, nonionizing nature, and high-spatial and temporal resolution, enabling high quality assessment of the cardiac structure and function; most importantly, the myocardial characterization, which is being correlated with histology. CMR is poised to change the manner in which cardiology diagnostics, management, and follow-up will be performed.
Indian Perspective
Cardiovascular diseases have for a long time been a leading cause of morbidity in India; however, the turn of the century is now showing epidemiological move toward increasing risk factors and prevalence of cardiovascular diseases, with the same having emerged as the leading cause of mortality in India, figures rising to 25%. Given that CVD is resulting in a critical economic and social impact on India, surveillance, early diagnosis, and appropriate management are becoming increasingly important for effective impact. Despite the huge benefits, there are multiple limitations related to the scope of cardiac MRI in India, from availability and access to equipment, cost, trained personnel, and physician awareness. Cardiac MRI capable centers pan India are extremely few. India is however standing at the brink of change, ushering in technological breakthroughs in medical science and research. The national cardiology and imaging societies are coming forward in a concerted approach to spread the awareness and education about the evolving role of CMR in cardiovascular disease. A revolution is definitely brewing and the healthcare industry promises to be a front runner of this revolution. Most certainly, "this is the era of Cardiac MRI" in cardiology practice.
Conflict of Interest
None.
References
Cardiovascular magnetic resonance imaging: current and emerging applications.

J Am Coll Cardiol. 2004;

44

(

06

):

1164

-

1171

.

Contrast-enhanced MR imaging of the heart: overview of the literature.

Radiology. 2004;

232

(

03

):

653

-

668

.

Imaging: current status and future directions.

Magn Reson Imaging Clin N Am. 2019;

27

(

03

):

xvii

-

xviii

.

Cardiac imaging: part 1, MR pulse sequences, imaging planes, and basic anatomy.

AJR Am J Roentgenol. 2011;

197

(

04

):

808

-

815

.

Advanced cardiac MR imaging of ischemic heart disease.

Radiographics. 2001;

21

(

04

):

1047

-

1074

.

Myocardial viability in chronic ischemic heart disease: comparison of contrast-enhanced magnetic resonance imaging with (18)F-fluorodeoxyglucose positron emission tomography. J Am Coll Cardiol. 2003;41(08):1341-1348.

Myocardial T1 and T2 Mapping: Techniques and Clinical Applications. Korean J Radiol. 2017;18(01):113-131.

Magnetic resonance imaging in cardiomyopathies. J Cardiovasc Magn Reson. 2000;2(01):67-82.

Systolic anterior motion of the mitral valve–beyond hypertrophic cardiomyopathy. Heart. 2008;94(11):1383-1385.

Cardiac morphology and function. In: Clinical cardiac CT: Anatomy and Function. New York, NY: Thieme; 2008. p. :166-175.

Prevalence of exercise-induced left ventricular outflow tract obstruction in symptomatic patients with non-obstructive hypertrophic cardiomyopathy. Heart. 2008;94(10):1288-1294.

Cardiac sarcoidosis: is it more common in men? Hai. 2016;194(01):61-66.

New guidelines for diagnosis of cardiac sarcoidosis in Japan. Ann Nucl Cardiol. 2017;3(01):42-45.

HRS expert consensus statement on the diagnosis and management of arrhythmias associated with cardiac sarcoidosis. Heart Rhythm. 2014;11(07):1305-1323.

Prognostic value of late gadolinium enhancement cardiovascular magnetic resonance in cardiac amyloidosis. Circulation. 2015;132(16):1570-1579.

Restrictive cardiomyopathy: genetics, pathogenesis, clinical manifestations, diagnosis, and therapy. Circ Res. 2017;121(07):819-837.

Comprehensive assessment of endomyocardial fibrosis with cardiac mri: morphology, function, and tissue characterization. Radiographics. 2020;40(02):336-353.

Diagnosis and management of endomyocardial fibrosis. Cardiol Clin. 2017;35(01):87-98.

The dilated, restrictive and infiltrative cardiomyopathies. In: Bonow RO, Mana DL, Zipes DP, et al, eds. Braunwald's Heart Disease: A Text Book Of Cardiovascular Medicine. (9th ed). Philadilphia (PA): Saunders Elsevier; 2011.

Role of cardiac magnetic resonance imaging in assessing ischemic and nonischemic cardiomyopathies. Expert Rev Cardiovasc Ther. 2012;10(02):223-233.

Diffuse late gadolinium enhancement by cardiovascular magnetic resonance predicts significant intraventricular systolic dyssynchrony in patients with non-ischemic dilated cardiomyopathy. J Am Soc Echocardiogr. 2010;23(04):416-422.

Myocarditis. N Engl J Med. 2009;360(15):1526-1538.

Update on myocarditis. J Am Coll Cardiol. 2012;59(09):779-792.

Cardiovascular magnetic resonance in pericardial diseases. J Cardiovasc Magn Reson. 2009;11(01):14.

Arrhythmogenic right ventricular cardiomyopathy (ARVC): cardiovascular magnetic resonance update. J Cardiovasc Magn Reson. 2014;16(01):50.

Cardiac magnetic resonance imaging of primary cardiac tumors. Quant Imaging Med Surg. 2020;10(01):294-313.

MR imaging of cardiac tumors and masses: a review of methods and clinical applications. Radiology. 2013;268(01):26-43.

Evaluation of cardiac masses by CMR-strengths and pitfalls: a tertiary center experience. Int J Cardiovasc Imaging. 2016;32(06):913-920.

Heart valve disease: investigation by cardiovascular magnetic resonance. J Cardiovasc Magn Reson. 2012;14(01):7.

Clinical use of cardiovascular magnetic resonance. Circulation. 2003;108(06):647-653.

Noninvasive coronary angiography by magnetic resonance imaging, electron-beam computed tomography, and multislice computed tomography. Am J Cardiol. 2001;88:70E-73E. (2A)

A direct comparison of noninvasive coronary angiography by electron beam tomography and navigator-echo-based magnetic resonance imaging for the detection of restenosis following coronary angioplasty. Invest Radiol. 2002;37(07):386-392.

Stem cells for myocardial regeneration. Circ Res. 2002;91(12):1092-1102.

Serial cardiac magnetic resonance imaging of injected mesenchymal stem cells. Circulation. 2003;108(08):1009-1014.

In vivo magnetic resonance imaging of mesenchymal stem cells in myocardial infarction. Circulation. 2003;107(18):2290-2293.

Magnetic resonance imaging of targeted catheter-based implantation of myogenic precursor cells into infarcted left ventricular myocardium. J Am Coll Cardiol. 2003;41(10):1841-1846.
Show Sections